Japanese Language Courses
Our ABK-AOTS DOSOKAI Center is the oldest Japanese language school in south India having a history of more than 40 + years.
We are also the coordinator of JLPT annual examination in Chennai Tamil Nadu. We also provide Japanese language advisor for all the leading companies in south India and also provide Japan language interpretation and translation services. We are member and part of Japan Foundation Network.
We have our study center at Coimbatore, Erode, Karur, Salem, Tambaram, Nanganallur, Thiruvanmiyur. We also have great collections of Japanese study material and AV room with all 20TB of learning materials open to all our students and members.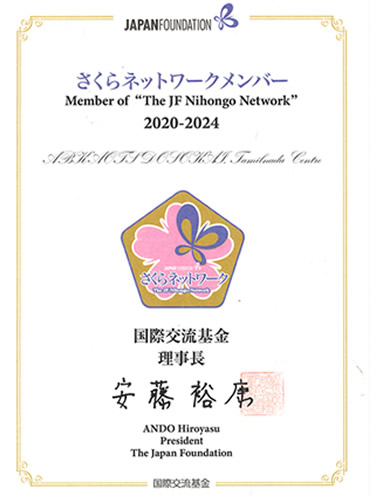 BASIC CONVERSATION COURSE (SPOKEN JAPANESE)
 Course material /audio cassettes
Crash Course (Fast Track)
ADVANCED CONVERSATION COURSE
Spoken Japanese Conversation
SCRIPT COURSE – JLPT (READ & WRITE JAPANESE)
Course
Level 5 - N5
150 Hours of Learning
150 Hours of Learning
100 Kanji and 800 words
Understand basic Japanese
Course
Level 4 - N4
150 Hours of Learning
150 Hours of Learning
300 Kanji  and 1500 words
Understand basic Japanese
Course
Level 3 - N3
150 Hours of Learning
150 Hours of Learning
600 Kanji  and 3000 words
Understand Japanese everyday situations
Course
Level 2 - N2
200 Hours of Learning
200 Hours of Learning
1000 Kanji and 6000 words
Understand  Japanese everyday situations
Course
Level 1 - N1
300 Hours of Learning
300 Hours of Learning
2000 Kanji and 10,000 words
Understand Japanese variety circumstances